DAMIAN JUNIOR GONG MARLEY @ REGGAE SUMFEST 2018
07/22/2018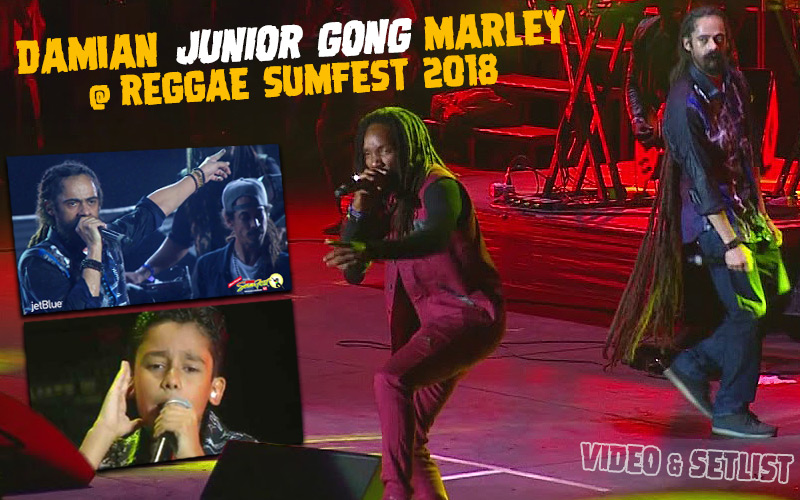 On his 40th birthday (July 21) Damian Marley headlined Reggae Sumfest 2018, which was his fourth appearance within the past 10 years.
On his set he welcomed Kabaka Pyramid on stage to perform their combination Kontraband.
During Could You Be Loved Damian was joined by his son Elijah, who sang a verse of  Stevie Wonder's  I Just Called To Say I Love You in honor of his father's birthday.
After the performance Junior Gong was interviewed by Nikki Zand he gave a little outlook:
"We just did a tour in Europe for three and a half weeks. Right now we are taking a little break off the road. Sumfest was actually the last stop for touring for a little while. I'm looking forward now, to going forward in the studios. I'm working on an album with Third World. I'm doing some production on that album, which I hopefully finish up soon and then starting doing some music for myself, too"
Later that night at Sumfest, Damian Marley joined Cham on stage to perform Fighter.
Check the full Reggae Sumfest 2018 setlist below
01. Intro
02. Here We Go
03. Make It Bun Dem
04. Set Up Shop
05. More Justice
06. Hey Girl
07. Beautiful
08. Affairs of the Heart
09. Upholstery
10. Medication
11. The Mission
12. Love & Inity
13. War/No More Trouble
14. Move!
15. Everybody Wants To Be Somebody
16. Nail Pon Cross
17. Kontraband feat. Kabaka Pyramid
18. Living It Up
19. Could You Be Loved feat. Elijah
20. Road To Zion
21. Welcome To Jamrock