Escritório de turismo da jamaica leva o reggae sumfest ao mundo
A Agência de Promoção do Destino Continua Sua Expansão nos Meios Digitais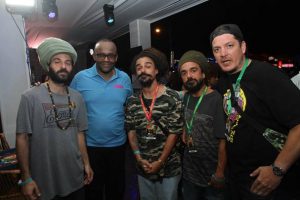 KINGSTON, JAMAICA – 24 de julho de 2018 – Dando continuidade ao sucesso da campanha de marketing digital "Vem Comigo Para a Jamaica", o JTB – Escritório de Turismo da Jamaica, aumentou seu impacto no espaço digital com o live streaming dos shows da 26ª edição do Reggae Sumfest.
A transmissão apresentou uma série de momentos ao vivo a partir do Catherine Hall, em Montego Bay, mostrando as principais performances, junto com apresentações dos artistas e entrevistas, pela popular apresentadora de TV Shakina Deer. O JTB Live Stream pode ser visto na fanpage do Visit Jamaica no Facebook, que já conta com mais de 940.000 seguidores ao redor do globo.
"Este ano nós queremos dar à nossa audiência um aperitivo em ambiente virtual do que o maior festival de regae da terra se parece", informou Donovan White, Diretor de Turismo da Jamaica. "Nós sabemos que existem várias pessoas que por alguma razão não puderam estar em Montego Bay. Então usamos essa plataforma para mostramos não apenas nossa música, mas também nossa cultura, nossa moda, comida e nossa vribração, que é a marca registrada do Reggae Sumfest."
Depois de duas horas de transmissão ao vivo, as estatísticas do Facebook Live mostraram que mais de 68.000 pessoas acessaram  o live stream, com 24.311 visitantes únicos e um engajamento de postagem de 2.669 pessoas. Os principais locais de acesso foram Nova York, Flórida e Kingston.
A transmissão ao vivo também contou com entrevistas, como a do artista sensação do reggae argentino Dread Mar I, além de D Major, Press Kay, Yanique the Curvy Diva e do CEO da Downsound Entertainment Josef Bogdanovich.
Com os esforços contínuos para expandir seu alcance internacional, o JTB recebeu o artista sensação de reggae e influencer argentino Dread Mar I, como convidado especial do evento. Reconhecido como um dos mais influentes artistas do movimento reggae na Argentina e em grande parte da América Latina, a visita de Dread Mar I na ilha ganhou enorme visibilidade entre sua base de fans e seus mais de 850.000 seguidores no instagram. Durante sua visita a Montego Bay, Dread Mar I concedeu entrevistas à mídia e compartilhou histórias de como sua paixão pelo reggae começou quando ouviu o lendário Bob Marley, o que posteriormente se desdobrou em uma carreira de sucesso de quase três décadas.
A transmissão do Facebook Live foi um sucesso que continuou pela segunda noite do show, capturando a atenção das audiências do mundo, que presenciaram o "maior show de reggae da Terra".
Durante a transmissão, a apresentadora Sakina Deer recebeu os artistas do Reggae Sumfest   deste ano: J Boog, Keznamdi, Naomi Cowan e D'Yani. O público pôde presenciar entrevistas exclusivas, com suas visões por trás das câmeras do festival e atualizações em tempo real dos próprios cantores.
Outros convidados VIPs memoráveis incluiram o Dr. Horace Chang, Ministro da Segurança Nacional e and Mitch Watson Presidente da Associação das Nações Unidas da Jamaica e a atleta prodígio do sprint Briana Williams.
Acima: o Diretor de Turismo Donovan White (ao centro) recebe o  Dr. Horace Chang, Ministro da Segurança Nacional (à direita) e Mitch Watson, Presidente da Associação das Nações Unidas da Jamaica.
Acima: a sensação do sprint  Briana Williams (no centro) também fez parte das festividades no camarote do JTB durante o Reggae Sumfest com o Diretor de Turismo Donovan White (à esquerda) e o Conselheiro Especial para o Ministro do Turismo Delano Seiveright.
Membros locais e internacionais da mídia também se juntaram ao JTB para entrevistar artistas, patrocinadores e organizadores do evento. Entre eles, Janet Silvera do Jamaica Gleaner's, Sean Kelly da radio canadense Mix 97 FM e a vencedora do Reggae Sumfest Inspire Award, Patricia Meschino, da Billboard.
Acima: Delroy Anderson, Diretor de Distribuição e Varejo da  Digicel Jamaica (à direita), conversa com o Diretor de Turismo Donovan White (à esquerda) enquanto visita o camarote do JTB  no  Reggae Sumfest 2018.  Tanto o JTB quanto a Digicel são patrocinadores do "maior show de reggae da Terra".
Para ver o resumo completo da cobertura online do JTB da 26ª edição do Reggae Sumfest, acesse a fanpage www.facebook.com/visitjamaica.
Para conhecer mais sobre a Jamaica ou para planejar a sua próxima viagem à ilha, acesse o site oficial do destino http://www.visitjamaica.com/portuguese. 
Sobre o Escritório de Turismo da Jamaica
O Escritório de Turismo da Jamaica (JTB) foi fundado em 1955 e é a agência de turismo nacional da Jamaica, tendo sua sede central na capital de Jamaica, Kingston. A JTB conta com escritórios em Montego Bay, Miami, Toronto e em Londres. Também representações em Berlin, Barcelona, Roma, Amsterdã e Mumbai.
A Jamaica foi votada o #1 Melhor Destino do Caribe, e #14 entre os Melhores Destinos do Mundo em 2018 pelo ranking do site de viagens TripAdvisor®.  Também este ano, o Conselho Internacional da Associação de Escritores de Viagens da Área do Pacífico (PATWA) nomeou a Jamaica como o Melhor Destino Para Turismo de Aventura . A TravAlliance Media nomeou o JTB como Melhor Escritório de Turismo em Geral. O JTB foi laureado pelo World Travel Awards (WTA) como Escritório de Turismo Líder no Caribe de 2006 a 2017. Em 2017, a Jamaica também foi votada pelo WTA como o Destino de Casamentos Líder no Caribe e o Destino Líder em Cruzeiros no Caribe.  Jamaica é o lar  de alguns dos melhores alojamentos, atrações e provedores de serviços do mundo que ganharam vários prêmios ao longo do anos.
Para mais detalhes sobre os próximos eventos especiais, sobre atrações e acomodações na Jamaica, acesse o site oficial do JTB em https://www.visitjamaica.com/portuguese/  ou ligue diretamente para o Escritório de Turismo da Jamaica pelo telefone (1-800-526-2422).  Siga o JTB também pelas redes sociais no Facebook, Twitter, Instagram, Pinterest e no YouTube. E visite o blog do JTB em www.islandbuzzjamaica.com. 
Para imagens clique AQUI.
Se desejar mais informações, por favor entre em contato.
Yndiana Montes / Adriana Grooscors
Solocaribe Inc.
Assessoria de imprensa para o Escritório de Turismo de Jamaica
Read More