Kingston Launch of Reggae Sumfest, May 30, 2018
Transcript of Speech Given by Josef Bogdanovich 
Good evening. Welcome.
The  Honourable Olivia Grange, His Worship The Mayor  Senator Councillor Delroy Williams, distinguished guests, ladies and gentlemen….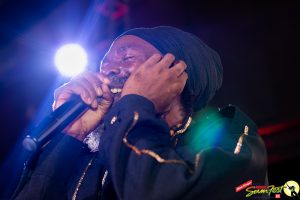 DSE became an owner of Reggae Sumfest officially in May, 2016  a little over two years ago.
Local audience attendance in our first year increased substantially from the previous year. We also introduced our Live Stream that connected fans globally opening our gates to hundreds of thousands.
2017 local attendance increased significantly with fans on Dancehall Night remaining well into daybreak to near capacity. This was a sight witnessing the power of Peace & Love and has been etched in many fans memory, perhaps forever.
Our streaming attendance transformed Reggae Sumfest into a truly
international festival with an international live fan attendance close to a million and in our aftermath literally 10's of millions watching on line and increasing daily. This says a lot for the concept "Our Music, Our Festival".
2018 looks to be even more promising. This year's line up is simply awesome. We have expanded the festival to 8 days with 7 preview and post events and 2 weekend live stage shows.
Last year we introduced the food court which was a hit and this year we are introducing the Merchandise Mall featuring 18 local vendors with their goods.
We have also introduced a  daytime Symposium appealing to local folks who want to learn more about the industry and how to get involved.  This Symposium will also embrace ideas in support  of the intellectual cultural experience that many abroad thirst for. Reggae Sumfest – something for everyone. I also want to recognise the addition of three new sponsors Master Card, Jet Blue, NCB and Grace.
And now for the reality that I'm sure is on peoples minds. The state of emergency order that began in January of this year and has been continued to August 2nd has returned peace and tranquility to Montego Bay.  Over the months I think it's now safe to say that a wave of fresh air has returned to Montego Bay where people feel safe and the smile of optimism can be seen on many faces. I have been told that tourism numbers continue to increase and from the looks of things July will be another bumper month for the city, the festival and the country. I and other team members are in discussion with the police and the government and I believe we all recognise the positive energy that Reggae Sumfest brings to the people of Montego Bay and to the country. I'm confident that the government will do the right thing and I'm confident that the people will do the right thing. Let's celebrate together, Our Music, Our festival – Reggae Sumfest.  Thank you.
Remarks by the Minister of Culture, Gender,
Entertainment and Sport
the Honourable Olivia Grange, CD, MP
at Launch of Reggae Sumfest 2018
Usain Bolt's Tracks and Record
30 May 2018
Salutations
I think that all who have shared in the Reggae Sumfest experience over the last 25 years will agree that the promoters have got it just right.
This is indeed the greatest Reggae festival on earth.
I am proud to see the continuation over the years and the value that Reggae Sumfest has brought and continues to bring to Jamaica's music industry.
Before Reggae Sumfest, there was Reggae Sunsplash and I want to pay tribute to those who gave of their time and effort to make it a reality.  That event gave birth to a large number of festivals around the world including Rottotom Sunsplash, Reggae on the River and numerous others across all continents.
So it is time again to experience "Our Music" right here at home. Reggae Sumfest 2018 in Montego Bay!
I have so many fond memories of this festival since its beginning in 1993.  I applaud the work of the production teams past and present and I commend the vision of Joe Bogdanovich.  He has moved Reggae Sumfest further into the technological sphere while keeping it authentically Jamaican.
Personally, I am looking forward to the "World Sound Clash" event on Thursday, July 19 featuring Tony Matterhorn, Mighty Crown, Pink Panther and Ricky Trooper.
The Street Dance on Monday, July 16 on the Hip Street also taps into our authentic Jamaican culture which so many visitors crave and travel to experience each year.
The Breakfast Party fits into an evolving 24-hour party vibe that is becoming quite popular in our entertainment landscape.
The best artistes in Reggae and dancehall will be on show come July 21 and 22.  Based on the line-up, this may be one of the best years of Reggae Sumfest.
This evening, I also want to speak to you a little about the importance of sustaining festivals such as Reggae Sumfest that highlight Jamaican music and culture.  We know for a fact that worldwide it is the Culture and Creative Industries that are leading the growth of the economies of many countries.
In addition, within the creative industries, it is the festivals, and what is now dubbed "the Festival Economy" that are providing economic sustainability across the world.
I am determined that our festivals, particularly our music festivals, will play a significant role in building the economy.  So many people benefit from our music festivals — from the big executives, to event planners, to production teams, to artistes and performers, to vendors, to the peanut man, to the dressmakers, to taxi operators.
There is space for everyone to earn in the festival economy.
On June 13, the Ministry of Culture, Gender, Entertainment and Sport will partner with the British Council and the JCDC to host an all-day seminar and workshop called "Festival X", to equip our festival organisers with the information, technical support and seed funding to ensure that we "up di ting" in professionalism and creating unforgettable experiences.
In applauding the Reggae Sumfest Team, I wish to pay tribute to Robert Russell for his commitment to Reggae Sumfest, working along with Joe who has put his money were his mouth is.
My Ministry is working to unearth and develop creative talent and business capacity towards building the festival economy and delivering prosperity to our people.
Congratulations again and I anticipate another wonderful staging of the greatest Reggae show on earth — Our Music, Our Festival.