REGGAE SUMFEST 2018 PRESENTS WORLD CLASH 20TH ANNIVERSARY
04/18/2018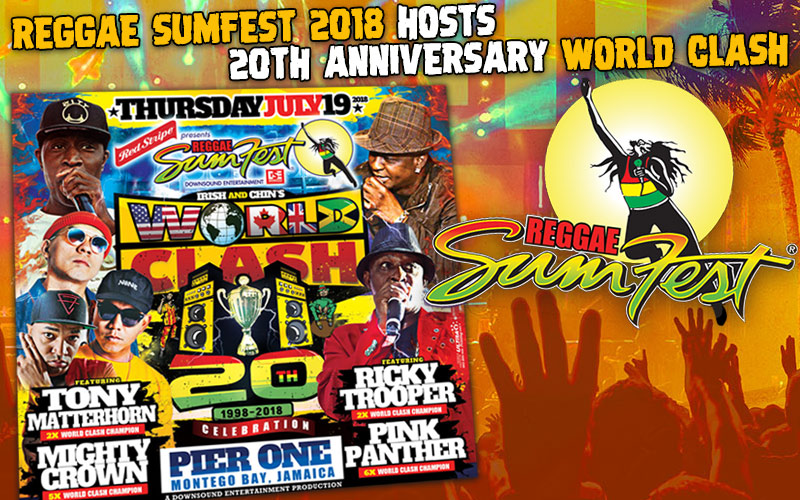 Reggae Sumfest 2018 Presents Irish & Chin's World Clash 20th Anniversary

The Epic Sumfest Battle in Montego Bay on July 19 will feature DJs Tony Matterhorn, Mighty Crown, Ricky Trooper and Pink Panther 
Jamaica's rich music culture is often emulated throughout the world. A good old-fashioned sound clash is one of the many musical standouts originated in the country that reggae fans across the world have come to enjoy. More classically defined, a sound clash is a DJ battle (mostly in reggae and dancehall) where two collective sounds – consisting of one or more selectors (or DJs as they say in U.S.) – go tune for tune. They often use custom remixes (aka dub plates) featuring drops from marquee artists to win over the audience.
Now, Jamaica's largest music festival Reggae Sumfest will host the iconic sound clash from one of the biggest players in the game. Irish and Chin will celebrate their 20th anniversary for a toe-to-toe, can't-miss competition between leading sounds – Tony Matterhorn, Mighty Crown, Ricky Trooper and Pink Panther. This commemorative event will take place on Thu. July 19 at Pier One Event Center in Montego Bay, the night before Sumfest's 2-day music festival.
Based on the historical context of its contenders, this year's competition will be epic. Tony Matterhorn, the former selector for King Addies before going solo in 1999 at World Clash, is the first selector to win back-to-back World Clash titles, securing victories at World Clash Jamaica (aka Death Before Dishonor) in 2002 and 2003. Pink Panther, while playing Black Kat, has won the most World Clash titles in the 20 year run of the Series. He has 6 World Clash trophies. Mighty Crown from Yokohama, Japan has won a total of 5 World Clash titles. They became internationally renowned in 1999 at World Clash after defeating Kilimanjaro, featuring Ricky Trooper, and Tony Matterhorn. Ricky Trooper, as lead selector of Kilimanjaro, won the first ever Irish and Chin World Clash, which was held in 1998 at Amazura in Queens, NY. His first major win under his own sound system, Sound Trooper was at World Clash Jamaica (aka Death Before Dishonor) in 2006.
Throughout it's 20 year run, World Clash has been hosted by a number of celebrities including Ninjaman, Beenie Man, Elephant Man and Bounty Killer.
https://www.reggaeville.com/dates/festival-details/reggae-sumfest-2018/news/news/reggae-sumfest-2018-presents-world-clash-20th-anniversary/